International Year One in Engineering
The International Year One (IYOne) is a credit bearing qualification that enables you to enter the second year of an undergraduate degree at an NCUK university. The International Year One is currently available in 7 countries worldwide, including the UK.
We offer electrical & electronic engineering, mechanical & manufacturing engineering and civil engineering that lead to hundreds of second year degrees at a range of leading universities.
The International Year One in Engineering will be available 2023/2024 academic year & has three possible routes for Mesarya Education House students.
MODULES
The modules (ten modules, five per semester) that students can study can be found in the tables below: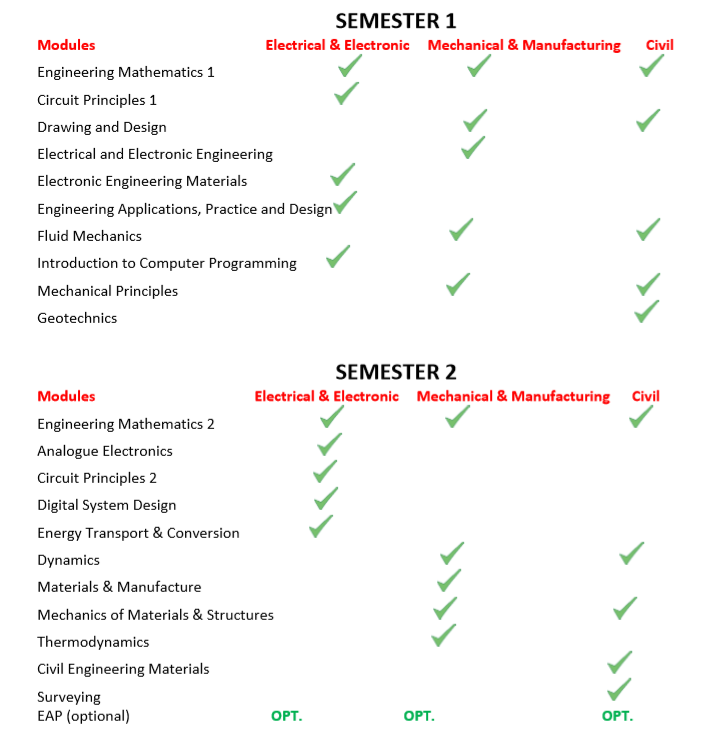 TEACHING TIMETABLE
Two semesters each containing 14 teaching weeks and an assessment week. (This can be adapted to suit your needs.)
MIN. TEACHING CONTACT HOURS PER WEEK
20 hours plus self-study. A further 6 hours if EAP is taught.
FEES
Fees for 2023 /24: The total fee payable for this 2 term programme is US$9,000.
EXAMS AND COURSEWORK
The split of coursework and examination varies by module but is at least 60% examination.
Coursework and final examinations are set by NCUK.
All assessments (coursework and examinations) are marked locally by the Delivery Partner.
NCUK moderates all assessments.
The marks are finalised at the NCUK Examination Board.
NCUK awards the final certificate on successful completion.
PROGRESSION
Year Two (2) of a related Engineering degree at one of the NCUK Universities.